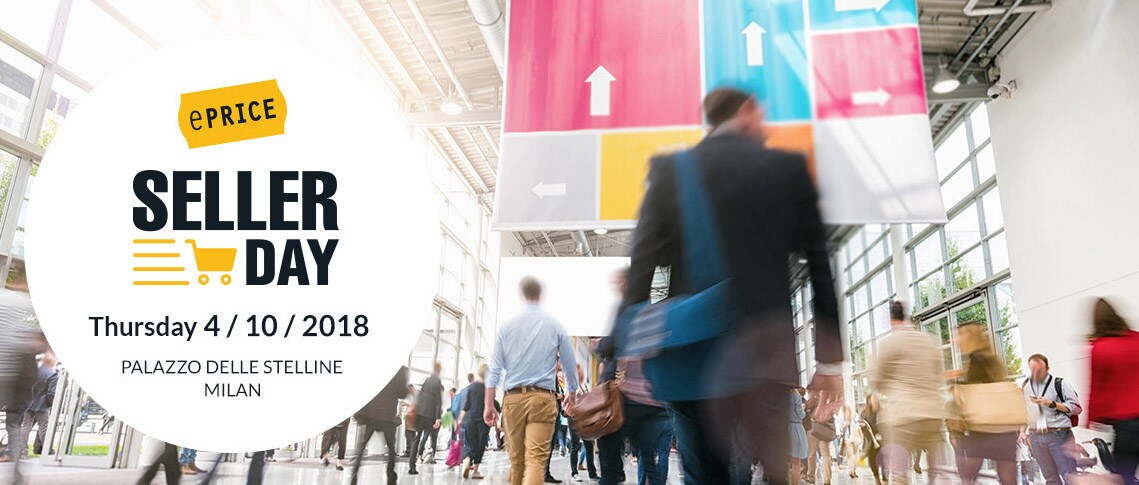 Take part in the Seller Day of the ePRICE Marketplace
Meet us on the 4th October 2018 by Palazzo delle Stelline in Milan: a day full of events, workshop and meetings. You will meet the ePRICE team, our partners and some surprises are waiting for you to boost your business as Seller
For this Seller Day edition of the ePRICE Marketplace, we are planning an agenda full of thematic workshops, meetings and presentations that will allow you to learn more and discover services that can improve your business.
Here is what we have reserved for you on this day:
MORNING - SALA VOLTA
9:30 – 11:15 | Keynote
Panorama of the ecommerce in Italy, data and forecasts for the future
ePRICE and the Marketplace
New opportunities to sell abroad with ePRICE
11:15 – 11:45 | Coffee break
11:45 – 12:45
Round table on marketplace payments with Banca Sella, Paytipper, HiPay
Marketplace Awards
12:45 – 14:00 | Buffet lunch + Networking
14:00 – 17:00 | Individual meetings with the ePRICE team
AFTERNOON - SALA VOLTA
14:00 – 15:00 | Workshop > Improve sales on the Marketplace: shop management, orders, integration, Advertisement, Pick & Pay

15:00 – 15:45 | Workshop > Selling abroad with ePRICE

16:00 – 16:30 | Workshop > The new sponsorship service of products
AFTERNOON - SALA VERDI
14:00 – 14:30 | Workshop > Manage shipments and tracking with Qapla'

14:30 – 15:00 | Workshop > Use of a plug-in integrator: SellRapido

15:45 – 16:15 | Workshop > Banca Sella Services

16:15 – 16:45 | Workshop > HiPay payment services
Meet the team
Participating in ePRICE Seller Day will also allow you to meet in person the members of our team and discuss with us all the issues related to the management of your Shop.
Individual sessions and meetings with members of our team will be open during the afternoon. What are you waiting for to sign up? By filling out the registration form, you can choose your meeting in the time you prefer.
Where we are
CENTRO CONGRESSI STELLINE
Corso Magenta, 61 – 20123 Milano (IT)
Metro
Line Rossa/Red MM1 - Subway stop Conciliazione
Linea Verde/Green MM2/Linea Rossa/Red MM1 Subway stop Cadorna
Line Verde/Green MM2 - subway stop S. Ambrogio
Tramway
Line 16 o 19
Bus
Line: 50/58/67/94
Train
FNM Stazione Cadorna
Our partners
With 2M unique visitors a day and 8,6 Active Customers, Cdiscount is the specialist of the French market and one of the leading marketplaces in Europe
With over 4M active customers and over 47% YoY traffic growth, eMAG is a leading player in Romania, the fastest growing ecommerce market in Europe.
real.de is an open marketplace offering an attractive sales channel in more than 5.000 categories. Brand awareness and targeted multi-channel marketing in more than 280 warehouses and 23 mi. leaflets per week guarantee a high reach for your offers.
Mabaya develops advertising tools that enable marketplaces and retailers to monetize their traffic by offering sellers and brands to promote their products, use Mabaya's Sponsored Products platform to offer and manage native advertising on your site and work directly with your sellers and brand partners.
PayTipper is a payment institution that provides innovative, secure and high level of personalization services, to meet the needs of individuals, companies and commercial networks.

In particular, PayTipper has developed a solution designed specifically for the financial management of ecommerce collections, dedicated to the Marketplaces as ePRICE.
HiPay is a global payment provider. We believe that the payment goes far beyond processing transactions. Thanks to a unique and flexible platform, our merchants can get more value from their payment data regardless of the sales channel. We help our partners to optimize conversion rates, increase sales and create a unique shopping experience.
Qapla' allows merchants to interface with various eCommerce systems and marketplaces such as ePrice, Amazon, ebay and quickly print labels for 12 couriers and manage tracking for over 80 couriers.

All communications on the shipment status are automatically sent in a customizable format, creating a direct communication channel between Merchant and end customer.
TNT travels long distances daily to connect people and businesses all over the planet.

Knowing how important they are to you and your customers, we deliver millions of shipments with care and attention. Whatever you need to send, wherever it needs to arrive, we deliver it personally through integrated local and international networks
Sellrapido is a cloud application that allows you to manage all sales on the marketplace and ecommerce, such as ePRICE, Amazon, Ebay, Ibs, Magento, and Prestashop.

It accelerates the publication / update of listings by fully controlling all sales settings. It simplify order fulfillment by automating invoice / waybill printing and much more.
Locker InPost is the first automated network in Italy for shipping and delivery of parcels. Nowadays it is in all Italian regions with a network of 350 lockers and about 8,000 locker worldwide. It supports merchants in the management of the last mile and allows shoppers to access in just 30 seconds to their purchase 24 hours a day, 7 days the week.
Come and meet all our partners at their stand